Chronicle
The Munich "Koeniglich privilegierte Hauptschuetzengesellschaft" (HSG) - Royal Privileged Shooting Society,
is a club with a long line of tradition. It has played not only an influential role in the Munich Society, but, has
also been one of the most successful competitive shooting clubs in the whole of Germany.

Historical Mile Stones of the HSG
Foundation of the "Stachelschuetzengesellschaft " Munich Crossbow Brotherhood around the 12th/13th Century.
Construction of a "Zielstatt" target shooting range infront of the Neuhauser Gate, now known as Karlsplatz or
Stachus in the year 1406.
Relocation of the HSG shooting range to the West in the "Wolfsgalgens" area. For this purpose the grounds
of the current Hauptbahnhof, Munich's main train station was bought in the year 1487.
In the years to follow a temporary wooden shelter was erected, then a brick house and later a building with
a regular service. This shooting place remained functional until 1847.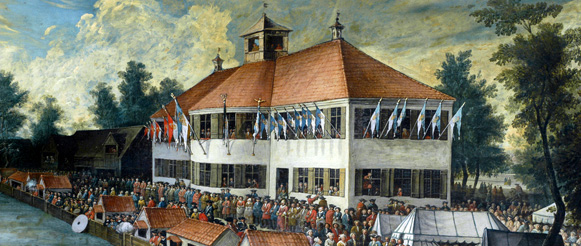 On the 22nd February 1851 the Pschorrangers area at the Theresienhöhe was bought. The foundation of
the Society with its 288 members of the time, took place on 6th September of the same year. On 7th August
1853 it was time for: The opening celebration of the shooting range to take place, in form of a festive shooting
event lasting 6 days. The whole royal household of the time, including King Max II and his sons took part
in this event.
The building development of the City of Munich forced changes: In the year 1893 the shooting range had to
be sold. The proceeds were used for the current location in Mittersendling, whereby a refuge for shooters
emerged in the Zielstatt Strasse with no comparison.
Today the HSG Munich is not only a club with tradition, but in particular one with international and national
successes in competitive shooting. With top athletes such as Sonja Pfeilschifter, Michael Winter, Harald Hack,
Hubert Bichler, Gottfried Kustermann and other professional shooters, it is the most successful shooting
society in Germany.